Thomas Aquinas Study Circle
A Living Thomism for the Third Millennium
The Thomas Aquinas Study Circle (TASC) meets
three times a year: i.e., once every academic semester.
The TASC Statutes were written by Jacques Maritain.
Our SPRING 2014 seminar topic is:
What Is Justice?
Saturday, March 1, 2014, 10 a.m.
Meet at Faculty Room, Saint Mark's/Corpus Christi College, 5935 Iona Drive, Vancouver
FREE ADMISSION – ALL WELCOME
Dr. David Klassen, Corpus Christi College
Justice as Love:
Greek and Christian Origins of Aquinas's Conception of Justice
& Its Relevance in Late Modernity
Dr. C.S. Morrissey, Redeemer Pacific College
Is Natural Justice Changeable?
Considerations from Aristotle, Aquinas, and Anglo-American Democracy
Our FALL 2013 seminar topic was:
"The Song of Creation"
Oct 15, 2013, 7–9pm,
at St. Mary's in Burnaby
Our SUMMER 2013 seminar topic was:
"Thomas Aquinas: Before and After"
May 11, 2013, 10am-12noon,
at St. Ann's in Abbotsford
Our SPRING 2013 seminar topic was:
"Does Modern Science Attain Knowledge of Essences?"
A discussion of Aquinas, Summa Theologiae I, q.84, a.7, and Aquinas,
Super Sent. I, dist.19, q.5, a.1, ad 7 (cf. The Red Book, pages 56–62).
with an excursus on
"Creationism and Evolutionism"
Saturday, January 26, 10am-12noon
at Redeemer Pacific College
---
The 2012 Fideles
Ecumenical Conference
"The Importance of Thomas Aquinas for Philosophy and Theology"
with Dr. C. S. Morrissey on Aquinas and Philosophy
and Archbishop J. Michael Miller, CSB, on Aquinas and Theology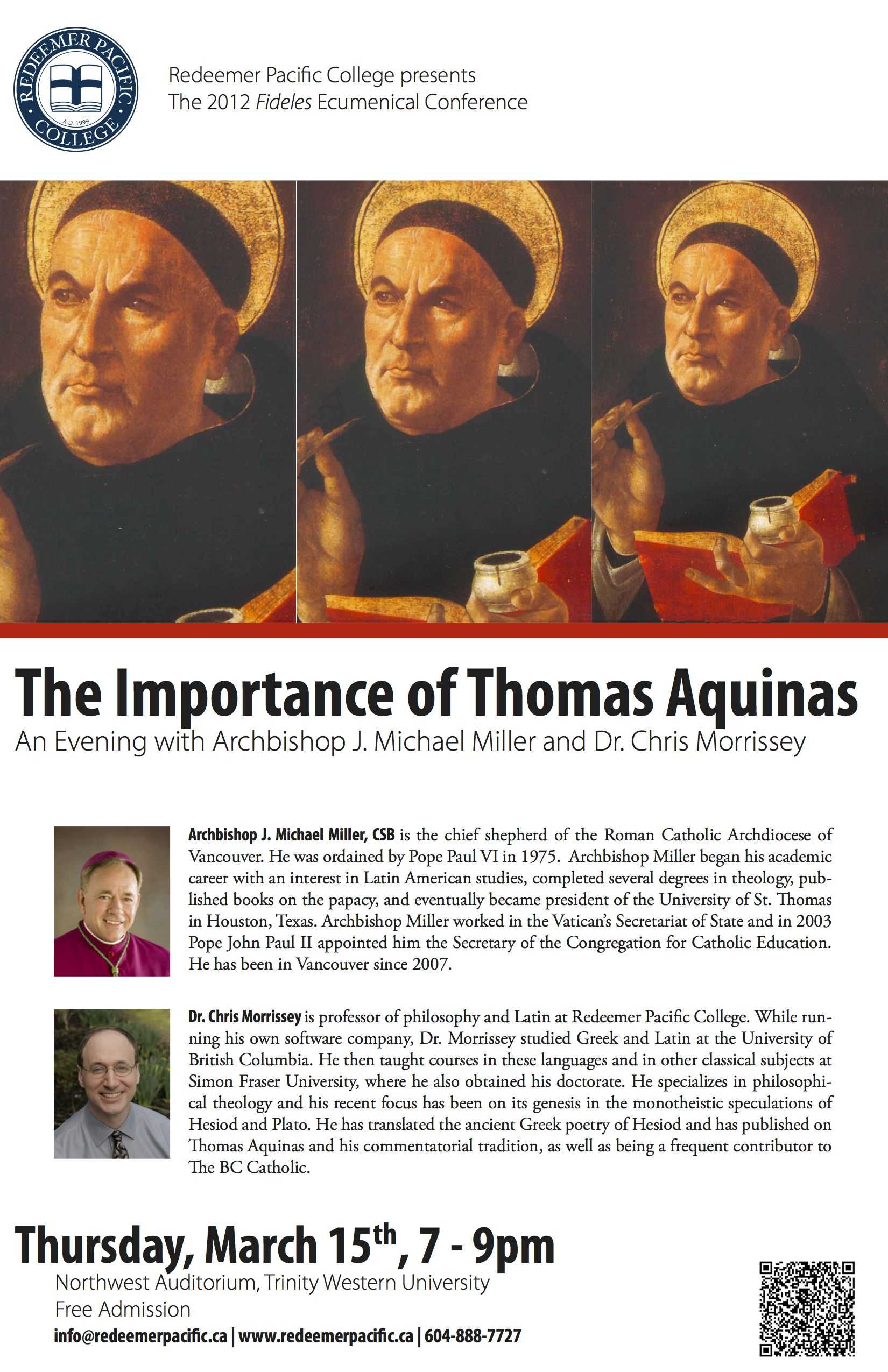 ---
Fideles: A Journal of Redeemer Pacific College
Tables of Contents from Fideles back issues
---
Richard John Neuhaus in First Things (March 2007)
on Fideles Volume 1:
"I'd like to see Fideles recognized as a sort of First Things North, because TWU and RPC have an ecumenical partnership that is totally unique." So says Prof. C.S. Morrissey of Redeemer Pacific College, a Catholic school that is cooperating closely with the evangelical Trinity Western University, both in British Columbia. Fideles is described as "a Catholic and Evangelical journal of metaphysics and theology," and the first issue, handsomely produced, includes articles on the mysticism of C.S. Lewis, the meta-science of metaphysics, and the theological uses of the analogy of being. For more information check out their website: www.morec.com/rpc/fideles.html.